Batman: The Video Game
Idag är det 30 år sedan Batman: The Video Game lanserades i Sverige.

Batman: The Video Game är ett actionspel utvecklat av Sunsoft till NES och Game Boy, främst baserat på 1989 års långfilm med samma namn. NES-versionen innehåller fem olika nivåer innan den slutliga uppgörelsen med Jokern i klocktornet på Gotham Citys domkyrka.

Plattformsspel där vår hjälte förutom sin fenomenala hoppförmåga har tillgång till speciella vapan i sin kamp mot brottslingheten. Dessa kommer att behövas mode de fem olika bossarna han måste ta sig an i fem olika steg innan han slutligen kan möta Jokern.
Boxart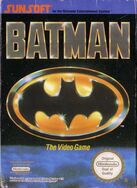 Bilder