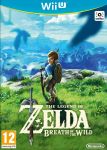 The Legend of Zelda: Breath of the Wild
Idag är det exakt 1 år sedan The Legend of Zelda: Breath of the Wild lanserades i Sverige.

The Legend of Zelda: Breath of the Wild är ett actionäventyrsspel till Wii U och Nintendo Switch. Spelet utannonserades för första gången den 23 januari 2013 och hade en planerad lansering under 2015. Det var dock först under E3 2016 som spelets titel Breath of the Wild blev officiell och lanseringsdatum var då planerat till någon gång under 2017. Den 13 januari 2017 utannonserades att spelet skulle släppas den 3 mars 2017 till både Nintendo Wi U och Nintendo Switch.
DLC kommer till Breath of the Wild
Den 14 februari avslöjade Nintendo att man ska släppa ett Expansion Pass till spelet och det släpps idag 3 mars och kan köpas i Nintendo eShop på Nintendo Switch och Nintendo Wii U för 200 kr.

Köper du detta pass så får du tillgång till två nedladdningspaket som släpps senare i år. Direkt när du köpt Expansion Pass kommer det dyka upp tre nya kistor på The Great Plateau i spelet. En av kistorna innehåller en tröja med Nintendo Switch-loggan som Link kan ha på sig i spelet om du vill. De andra två kistorna innehåller användbara föremål.
Det första nedladdningspaketet släpptes 30 juni 2017 och innehåller en Cave of Trials-utmaning, en ny svårighetsgrad i spelet samt en ny funktion för kartan i spelet.
Det andra nedladdningspaketet släpptes 8 december 2017 och erbjuder nya utmaningar där spelarna får en ny, underjordisk bana och en ny handling i spelet.
Boxart
Bilder
Video